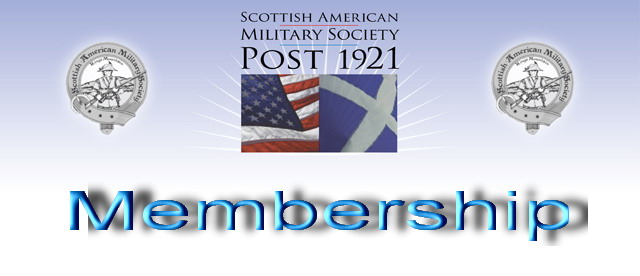 SAMS is a Scottish-American Veterans Society of the U.S. Armed Forces and British Commonwealth Services also open to U.S. Active Duty, Reserve, and National Guard Armed Forces personnel, and senior college ROTC members. We honor both our Scottish heritage and the many sacrifices the military have given our country. Through your military service you have demonstrated the character we all value. We will be honored to have you along side of us as we keep alive and celebrate, both the present and our honored past.
Please accept our invitation to join us as a member of SAMS and Northern California Post 1921. The geographic area that Post 1921 covers extends from the Oregon/California border in the north to Fresno in the south. Here are links to the SAMS National Membership Application (pdf) and the SAMS Post 1921 Membership Application for your use. Membership in the National Organization is required to be eligible to join Northern California Post 1921. As a convenience, following the completion of both the National and the Post application, you can send both application sets and dues to Sandy Welsh, Post Comptroller, 3524 Morrow Street, Sacramento, CA 95821-3338. You may email her with questions at sandy_welsh@sbcglobal.net or the webmaster. We will forward the National Application and dues to the appropriate personnel. (Dues are $35 for National and $15 for Post 1921).
We also have an Auxiliary Membership for anyone who is not a veteran but wishes to support our post. (Bagpipe, colorguard, or computer skills, for example). Post 1921 Auxilliary Membership Application . For more information, download the Auxilliary Membership Proposal
We would like to express our heartfelt thanks for your service to our country. We are looking forward to seeing you at one or more of the various SAMS events in the future. If you have any questions, please do not hesitate to contact the webmaster below and he will forward your inquiry to the appropriate person.
---
Webmaster: Chuck Jamison ·oakpiper(at)gmail.com